Photo Booth
"Best Choice Photo Booth Hagerstown & Chambersburg!"
WEDDINGS • CORPORATE EVENTS • SCHOOL DANCES • THEMED PARTIES • AND MORE…
Let's Make Some Memories!
Whether it's a wedding, corporate event, birthday, or school event… we have the photo booth rental for you!
Electrolinear Entertainment has the photo booths, props, and service to make your event as classy, over-the-top and memorable as you want it to be…
Every photo booth rental includes Unlimited Picture taking for the duration of the rental, Awesome "Clean" Props and an Attendant. In-Addition to the prints the day of your event you'll also have access to all original images online for viewing and download at no extra charge. Add our funDJs to take your party to the next level!
Frame Filling Photos
Our photo booths fit small and large groups and will have everyone gushing with excitement as they create frame-filling photos.
Imagine your closest friends and family squeezing together, couples smooching, older guests looking adorable, and kids bouncing around anticipating the flash. Even grouchy guests can't help but look GREAT in our photos!
Free Web Hosting & Downloads
Free downloads of the photo booth photos are available online in your very own password protected gallery. Download your favorites and share them with the World.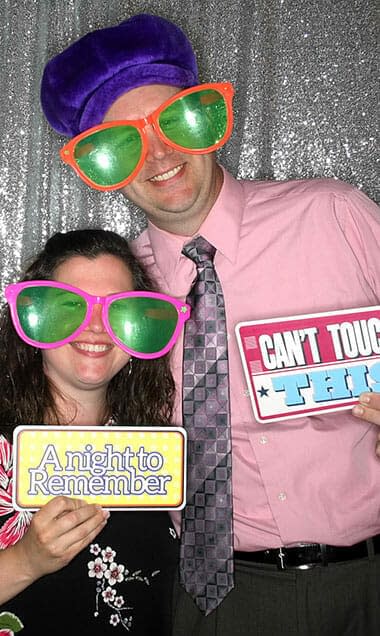 UNIQUE & CUSTOM PHOTO BOOTH LAYOUTS
This is the most important part of the Electrolinear Experience. Not to get too technical, but here is how we do it. Give us your theme, event date, logo(s), message, social media handles or anything else you want, and watch our graphic designers take your vision and create a one-of-a-kind customized layout. We will even give you 3 major revisions until you say I LOVE IT! Our pictures are shared on social, live on desks & fridges and wait in the shadows to be viewed in memory books. So rest assured, we will design a keepsake that is unforgettable and timeless!
Or select from one of our many pre-made designs with your customized names and date at no additional fee.
Quality Far Beyond The Mega Pixel
Ridiculously expensive gear paired with real-time image enhancements create images of the highest quality. Our Fun Photo Booth's proprietary software analyzes and adjusts every image to ensure proper color rendition, contrast, exposure, and sharpness. You can even enlarge your favorite pose to a 16×20 without any loss of image quality!
Lightning Fast Speed
In a matter of seconds, you'll have your photo in hand. Get more photos in your guest book, spend less time waiting to make even more photo memories!
Animated GIF
Animated GIF's are short videos created from still images and are all the rage! Our Photo Booths are equipped with this new technology and provide guests the option to create their very own live-action GIF immediately after taking their photos.
Super Photo Filters
Why choose between just color and black & white? Unleash the creativity and watch your guests take unique photos with custom tones of Black & White, Color, Sepia and Retro Color to name a few choices.
Be Social & Share
Let your guests share their prints, original photos + GIFs over: E-mail, SMS, Twitter, and QR Codes (internet access required).
Facebook Pages
Automatic upload of all prints to your Facebook Page in the background. Your guests instantly see all photos and can share them boosting your social reach.
Boomerang
Record a one-second video then slow it down, play it forward than reverse.
Easy Online Account & Planning
Each of our Photo Booth Hagerstown clients has access to their own online account. They can easily access their accounts from a cell phone, tablet or desktop. This gives convenient access to photo booth agreements, worksheets/planners, payments and more at their fingertips.