WHAT IS PIN SPOTTING?
Pin spots are focused beams of warm white light, projected onto tabletop focal points, such as centerpieces, wedding cakes, artwork, and auction items. Pin spots highlight these elements, making them stand out in photographs and in person.
Pin spots are light fixtures with a specialized LED inside, that are narrow spotlights (rather than a normal LED, which is a wide-angle wash light). The pin spot fixtures are secured to freestanding support hardware, then focused by professional installers to maximize the impact they make. Perfect pin spotting is like an art form, making the tabletop decor elements glow just right.
HOW ARE THE PIN SPOT LIGHTS SET UP?
Most often, pin spots are rigged to ceiling tracks, or supported by freestanding pipe and base structures. Additional weight is added to the bases to make sure that these tall, heavy racks are safe near guests. Our team of Event Pros will deliver, install and focus the pin spots before the event, and uninstall them after the event.
Here at Electrolinear Entertainment, we also have a pin spot technology that allows us to incorporate pin spots in the existing lighting system of the venue without freestanding hardware. For more information about this, please call or email us.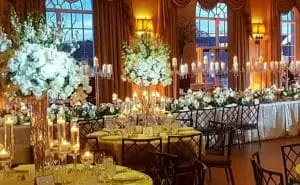 The above photo shows the difference in light level between the centerpiece and the rest of the table. The centerpiece is the clear focal point, and the light level around the rest of the table remains intimate and not over-lit.
DO MY CENTERPIECES NEED PIN SPOTS?
Here are a few questions to answer to determine whether or not you need pin spots for your centerpieces:
Are you having an evening event?
Pin spotting is intended for evening/nighttime events. Or, if you're having a daytime event in a space without windows, pin spotting can still be effective.
We do not recommend pin spots for daytime events in window-filled spaces, as the effect won't be as dramatic as you'd like.
Are your centerpieces large/elaborate?
If so, you've most likely spent a significant amount of money on each one. A major design mistake we've seen is spending several hundred dollars per table on floral arrangements, then opting out of pin spotting. The centerpieces get lost in the look of the room, and none of your guests can see all of the exquisite details in the flowers.
Are your centerpieces floral arrangements?
Floral arrangements often need pin spotting in order to be seen clearly in low light. This is especially true if you're including colored uplighting or other light effects.
Are you using other types of lighting in the room?
You may think that if you're using uplighting and other lighting effects, you don't need pin spots. In fact, the opposite is typically true. The high-end look you're trying to achieve comes from layering different types of light. The uplighting creates a colorful wash, then the pin spots create dramatic focal points and keep the room from looking like one solid color. This combination draws guests' eyes to each beautiful element in the room.
Do you have lots of candles on each table?
If your centerpiece primarily consists of candles, pin spots aren't necessary. If you plan to use candles as accents, a gorgeous balance of light comes from a pin spot on the floral centerpiece, and 3-6 candles as accents around it.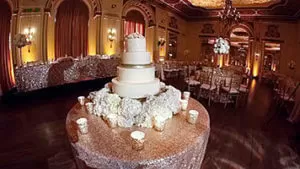 HOW MUCH DO PIN SPOTS COST?
Pin spot pricing is dependent upon a few factors:
What is the timeframe for setup and takedown?
   Rates are calculated based on how much time is allowed for setup. Less time for installation means sending more installers, which can increase the cost. The timeframe should always be discussed with your venue prior to booking.
Where is the event being held?
   Labor and trucking rates are also dependent upon the distance from the vendor to the location.
How many pin spots do you need?
   If you need over twenty pin spots, you can often pay a lower price per table than if you only need a few.
To receive pin spot pricing, please contact us with your event location, date, timeline, and table quantity. This information allows us to create a prompt quote that includes setup and takedown.
We hope this article was useful to you.
Don't forget to check out our website www.yourdjs.com.
**This article first appeared on www.yourdjs.com. Electrolinear Entertainment offers fun wedding DJs, Photo Booths, Ceremony Officiants and much more for your special day…